It takes a lot of courage to open a meat restaurant in the heart of Rome's jewish ghetto, and to serve our own versione of one of Rome's classic dishes: Carbonara pasta without any pork bacon. When you talk about Carbonara in Rome, you are talking about the one with pork pancetta and pecorino cheese. Some may vary it slighlty by using pork guanciale (a cut of the meat that comes from the animal's cheek) and pecorino cheese.

Being a kosher restaurant, pork isn't allowed on our menus and as a consequence can't be found anywhere in our kitchen. The same rule applies to milk products: kasherut makes it clear that is prohibited to mix meat and milk in the same meal.
So here is our challenge: to serve our customers the best kosher Carbonara in Rome. A Carbonara free of pancetta and pecorino, but still able to create an explosion of flavors for our guest's tasting buds, without revolutionizing the original Carbonara flavor, and without destroying BellaCarne's name, now one of the most sought-after restaurants in Rome. Our experiment resulted in an immediate success: food critics and experts welcomed our pork free Carbonara with great enthusiasm. Today, our Tonnarelli alla Carbonara, is one of the most popular items on our menu: but how did we get to this point?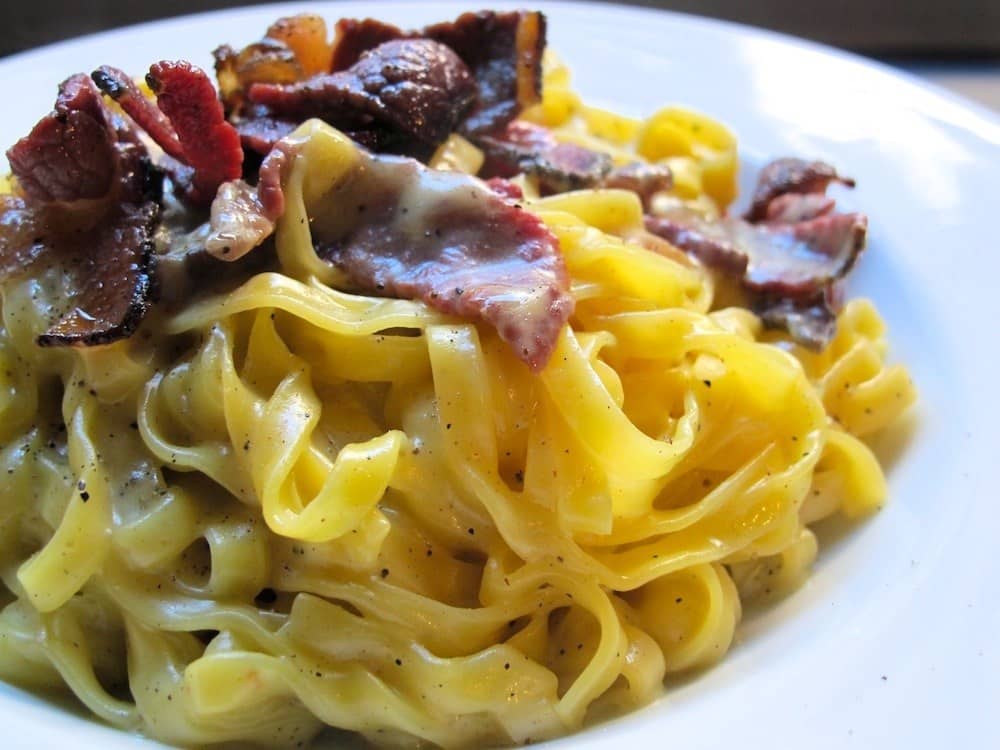 Beef Cheek, first of All.
Let's start from the basics: in order to respect the rules regarding pure and impure animals, we have to exclude pork pancetta from our recipe. A massive problem for many, but not for us. The restaurant's owners. Alberto and Alessandra Ouzana, are professionals when it comes to kosher meats. We have Alberto Ouazana to thank for the invention of kosher bresaola (a type of cured meat), unseen in the kosher meat market until 15 years ago!
In other words, we have been producing kosher meats for a very long time: we understand the product and know how to age it in the right way. Our goal with the beef cheek meat, was to create a flavor very similar to the pork pancetta, in order to serve a Carbonara free of pork, but still very similar to the original version.
So here are some of Mr. Alberto Ouzana's secrets, and remember: at BellaCarne you will be able to taste a delicious kosher Amatriciana pasta as well!
Kosher Pecorino Cheese
Now we must talk about the cheese issue. Jewish cuisine requires kosher cheese, wich means it is subject to a strict rabbi supervision, to ensure it is a product made from vegetable curds. This happens because milk products and meat cannot be mixed together.

We were able to solve this issue easily: BellaCarne is supervised by Rome's Rabbi, and is the only restaurant in Rome's jewish ghetto that follows the 'Bishul Israel": the cooking and preparation of all food is always supervised by a higher figure in the Jewish community.
Pork Free Carbonara, where can I find it?
Hopefully we were able to make you curious! Now all that is left to do is to try our recipe and make your own version at home, or come try at BellaCarne, where you will be able to to try the best version in Rome, come see us!